Wishes for Kids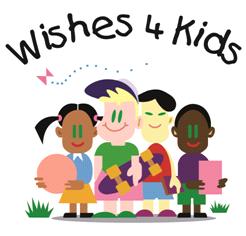 Wishes 4 Kids was officially launched in September 2002 with the object of granting a 'wish' for Leicestershire children of 18 and below who are life-limited, terminally ill, have suffered life changing - mental, physical or emotional traumas, those who have been abused and children diagnosed as HIV+
The Charity is solely independent and not part of any other national organisation. Referrals are received from local hospitals, specialist nurses, Social Services, GP's, Police, friends, families and so on.
Each child is asked to make three wishes – it is then the charity's challenge to grant one of the three.
Since the launch of the Charity they have granted over 2,000 children's wishes. These have included trips to Disneyland Paris, laptop computers, meeting sporting and pop celebrities and taking several local Catholic children for an audience with the Pope.
Financially it is very difficult for the charity to set budgets as it does not know from one day to the next what wish requests may arrive in the office or what each child will request. It does not receive any financial support from government sources, the Lottery, Children In Need and so on, but relies solely upon donations from the public and corporate sectors together with it's own fund raising.
To see how StokeFest 2011 helped one little girl go to Disneyland, please click here
Wishes 4 Kids
67 Regent Road, Leicester, LE1 6YF
Tel: 0116 2543491
Web: www.wishes4kids.co.uk
Registered charity number: 1092962