Leicester Animal Aid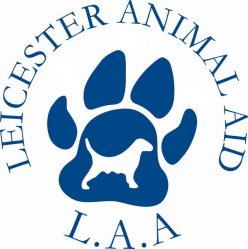 Leicester & Leicestershire Animal Aid Association (LAA) serves the public by providing a second chance for abandoned, neglected or unwanted dogs and cats and those that have been relinquished by their owners who can no longer care for them. Established in 1956, it rescues and re-homes on average 550 cats and dogs each year.
The Charity does not receive government or lottery funding and relies entirely on the generosity of the general public, local community groups and businesses to help raise essential funds.
LAA co-ordinate a pet finder service to help re-unite lost and found pets with their owners and is proactive in promoting responsible pet ownership and hosts talks about the Charity's aims and objectives. They are always happy to travel to community groups or schools and provide guided tours of the kennels and cattery.
You can join as a member of LAA and become part of a very special family, or you may wish to sponsor one of our resident dogs or cats until they find a new, loving home.
LAA rely on a loyal team of volunteers to help with exercising dogs, caring for our cats, working in our Charity shop and helping out at our many fundraising events. They are open 7 days a week. Our Charity Shop is also open 7 days a week and we have a Coffee Shop open on the first Saturday of each month.
Leicester & Leicestershire Animal Aid Association
Elmwood Farm, Forest Road, Huncote, Leicestershire, LE9 3LE
Telephone: 01455 888257 or email: info@leicesteranimalaid.org.uk
Website: www.leicesteranimalaid.org.uk
Registered Charity Number: 242560